I have a rare, original manual available for the Model 1914 Colt "Potato Digger" Machine Gun.  It is titled, "Hand Book of the Colt Automatic Gun, Model 1914 (Browning's Patent)."  It was published in 1914 by Colt (Publication A-57-R), so it's over 100 years old, and is in good (minus) overall condition, with minor creases, a couple of small moisture stains on the cover, and the spine is split for about 2", leading from the bottom staple.  It measures 7 7/8" x 8 5/8', and is 17 pages long, plus a centerfold diagram that can be seen in the photos below.  Don't miss out on this one, if you are lucky enough to own this machine gun, as these manuals are very difficult to find.
The price is $175, plus $3.32 first class shipping.
---SOLD---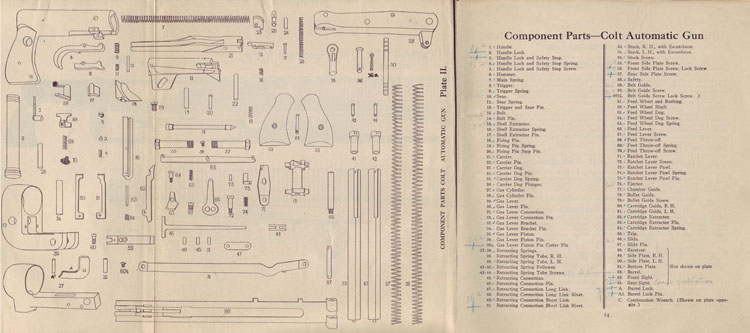 I accept PayPal, as well as checks or money orders.  If you are an Ohio resident, I must collect sales tax appropriate for your local area.
Thanks!
David Albert
dalbert@sturmgewehr.com