***DISCLAIMER***
This is a novel length post. What started out as a quick look into how I cured my problems became a short story. You have been warned!
In another thread I mentioned that I had solved the woes associated with my Reising, member
dalbert
suggested I make a thread about what I did as to help other members who may be experiencing similar difficulties. So here it is!
A little history is needed before I get going. The Reising was my first SMG and I disregarded all the stories about broken firing pins, jams, and general unhappiness associated with the weapon. I was in love with that walnut stock, the .45 ACP is my favorite cartridge of all time, and most importantly (to me), U.S. Marines had actually marched off to war in the Pacific with these things! Even the fact that they had a truly terrible reputation with the Marines and were almost universally hated throughout the Corps couldn't put me off. It was in my price range, I liked how it looked, and I just
had
to have one as my first MG.
My search began in earnest and I soon located a nice piece that had been a PD gun in Pennsylvania. It looked very pretty and the price was right, in fact, I got it for a song. It only came with one magazine but that wasn't something I was worried about at the time, I should mention the one magazine was a 12 rounder to boot.
I should have known better, but I didn't. I bought it! I did all the paperwork, ordered Frank's excellent book on the Reising, then I began the long wait for my first ever machine gun!
I have my C&R license and lots of cool goodies have shown up at my door. But the day that box showed up and I cut the tape was just
too
cool for school, staring me in the face was an honest to God machine gun! I couldn't wait to get to the range. I already had 200 rounds of Winchester White Box ready to go. Come Saturday of that week I went to a little known sand pit with my new treasure. I loaded the magazine with its entire twelve rounds and........ proceeded to be very disappointed. Just like everyone had said, this thing was a serious jam-o-matic. I was really let down. My
LONG
awaited foray into the NFA world was a flop. And now it looked like I was stuck with a turd and had shot my entire wad on it. Things looked pretty bleak at this point.
And now we get to part where I tell you how I cured all this and have come to love what is a truly awesome piece of weaponry.
I'm going to start out with what turned out to be the major problem with this weapon then throw in a few little "tweaks" I have done that have paid off in spades. So, enough delays, on to the good stuff.
When I first got the weapon I mentioned it came with a single twelve round magazine. On occasion I could knock off a 12 round mag dump but mostly it was a 2-4 round burst before I had a feed jam. Every jam was the same. The round would be hung on the feed ramp. The nose of the bullet would appear to be driven into the top of the chamber. A slight pull rearward on the action bar, tip the barrel forward, the round would chamber, let the bolt slam home and you were rocking and rolling again. The weapon was giving me clues to the problem but I was too dense to listen.
In my opinion this performance totally sucked. I couldn't imagine being in combat with a weapon that acted like this. I (mistakenly) thought it was magazine trouble. I located three of the awesome Ken Christie mags and immediately experienced the EXACT same feed trouble I should mention at this point that the weapon is missing a fin out of the compensator so I knew that at some point in its life it must have been a runner. This should have been my
second
clue that I was on the wrong path. But I kept on down the wrong road. I tweaked magazine feedlips endlessly. That had no effect. I tried bullet profiles from every manufacturer out there, no dice. I polished the feed ramp until I could use it as a mirror, again, same type of jams. After every marathon session at my workbench where I was absolutely sure that
this
time I had found the solution, I would cycle the action by hand through 6 or 8 fully loaded 30 round magazines and it would always function perfectly. Then when it came time for live fire it would jam almost immediately! I should also mention here that I don't give up easily and am way too hard headed sometimes. A smarter person would have thrown in the towel by now!
Every jam looked like this. Regardless of what type of magazine was in the well at the time.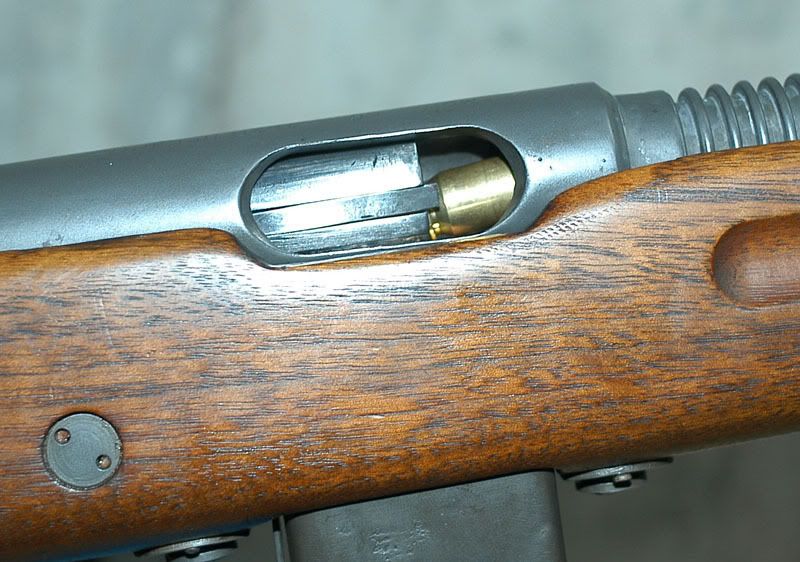 I struggled like this for months. My wife encouraged me to just send the stupid thing to someone who could make it run. Guys, sometimes you really should listen carefully to what your wife has to say, yes, even when it comes to your guns. But I was too damn stubborn and decided I was going to figure this out for myself.
I need to mention here that I had never strayed from the path of this being a magazine problem. I mean the original 20 rounders were known to be problematic right? That was why they had converted them to a 12 round configuration. How could it be anything other than a mag problem?
Well late one night while I sat at my reloading/gun cleaning bench I think Eugene Reising got tired of me cursing out his baby and stopped by personally to give me some guidance.
I mentioned earlier that I always hand cycled rounds with no trouble at all. Every time I hand cycled the rounds I rode the action bar home with my index finger. Every time the action was unencumbered by my finger at the range I would get a jam. I had a sudden flash of genius. Maybe I should try to emulate
actual
range conditions! I pulled the action bar all the way back, then quickly yanked my finger out and let the bolt slam home. Well look at that, the typical jam I saw every trip to the range! Now whenever it would jam like this at the range I would do the quick clearing method I described above, take tension off the bolt with the action bar, tip barrel down, go live again. This time I didn't. I decided to study this jam up close. Yes, that's right, for the hundreds of jams I had encountered, I had
never
given the action more than a cursory glance before clearing it. This time I did, and what I saw blew me away. Take a look.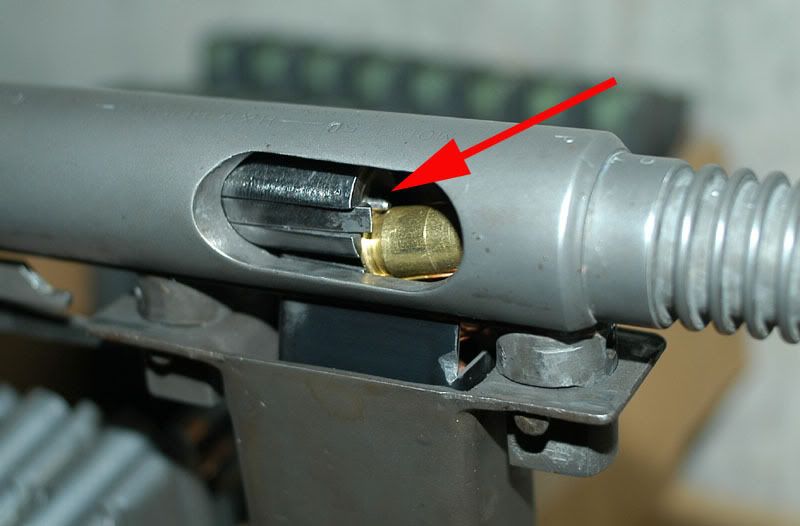 At the tip of the red arrow you can see the firing pin is protruding from the bolt and keeping the base of the round from riding up any further into the bolt. I knew at this point that I had just made a
major
discovery in the effort to make this thing run reliably.
Let me take a minute here to give my very laymanistic explanation of what I think was happening. I am neither a gunsmith, nor an engineer, but I think I have a pretty good grasp of what was happening.
The bolt in the Reising is miniscule, it has very little mass. In fact, I think a Ruger 10/22 bolt may actually weigh more. As the Reising is a closed bolt subgun it needs a separate firing pin from the bolt so it may function reliably in semi-auto. The firing pin in the Reising is
not
designed as a free floating design and as such has a retaining spring fitted over it when it is home in the bolt.
So what does all this mean? Here is my best guess. As the bolt is
extremely
light it comes forward with a tremendous amount of velocity when propelled by the action spring attached to the action bar. When the bolt is riding home it hits the base of a cartridge in the magazine. This slows the bolt considerably. However, the firing pin is independent of the bolt and needs a good strong retaining spring to keep its inertia in check, otherwise it would fly forward and protrude out of the bolt face. See where I am going here? Over time springs get weak. The springs in this gun were over 60 years old. So my theory was that the weak firing pin retaining spring simply couldn't hold back the firing pin anymore, it protruded from the bolt face, and voila, jam city, just like in the photo above!
Now the very anti-climactic solution to all this. Nothing more than a new set of Wolff gun springs. Yep, new springs solved 85% of my problems. But there were still problems to be encountered. And I wanted this thing running 100%. So the story continues. Here are the "tweaks" I mentioned WAY back at the start of this story.
Now that I had the gun running really well I was doing 30 round mag dumps like ammo was free and the zombie hordes were running wild! Guess what happened next? Broken firing pins ahoy! Yep, they started breaking left and right. So I set out to cure this. I took my cue from another one of my favorite weapons. The Colt 1911 .45 ACP pistol. I knew that the 1911 used what is known as an "inertia" firing pin. An inertia firing pin is exactly what the name implies. It uses the inertia of its forward momentum to extend beyond the face of the bolt and impact the primer on the chambered round. When the firing pin actually initiates the firing sequence it is no longer in contact with the hammer.
As I am alway pulling my weapons down to their bare essentials I began noticing that the firing pin in my Reising would always be bent. Even though I had put a new, straight, pin in recently it would still be bent. One day I decided I was going to attempt to transform a pin into an inertia variety and see if :
a: It would reliably set off a round.
-and-
b: If the damn things would stop bending.
Well, I am now into the thousands of rounds on that same "experimental" pin and counting! I think the inertia pin concept works on the Reising!
Here is a picture of all it took. Notice the red arrow indicates the small difference in length from a NOS pin to the Inertia pin of my making.
When the firing pin is full length it ends up being sandwiched between that absolutely
massive
hammer and the primer of the chambered round. After enough of this type of pounding the firing pin says "I give up!" and simply snaps at the weakest point, the very thin tip.
To make your own inertia pin simply file the base of the pin down bit by bit until the very tip of the firing pin is just barely recessed in the bolt face when the base of the pin is flush with the bolt base. If you do this correctly then it will be impossible for the firing pin to be in contact with both the hammer and the cartridge at the same time, it will be one or the other, but never both at the same time. This one modification has saved me so much hassle with the annoying broken firing pin in the middle of a range session. The ten minutes it takes will pay for itself in spades.
Another modification I have done that has worked really well is bolt polishing. Using a combination of super fine sandpapers I polished my bolt until I could see my face in it. The reason I did this is that the tolerances on this gun are absolutely super tight. So as soon as it started getting dirty I could tell. The first thing was a change in ROF, then I would get a stutter in the middle of a mag dump. The slightest bit of buildup anywhere seemed to cause a hiccup in performance. So on a whim I used sandpaper from 1000 on up until 2000 grit to progressively polish the bolt to a mirror finish. Guess what? Huge improvement! For all I know it is the miniscule loosening of tolerances involved with polishing that improved the performance of my Reising. But it DID help out a lot. The weapon tends to get crudded up relatively quickly due to what I consider a kind of loose chamber, allowing a lot of carbon back into the action. And relatively quickly is a subjective term. I can go between 600 and 700 rounds before I need to get in there and hose out the junk. Yeah I know, it will never compare to an UZI or an MP5 in terms of rounds between cleaning but I rarely go more than 400 to 500 rounds per range session so that is plenty for me!
Here is a pic of a NOS unpolished bolt on the left, and my current polished bolt on the right. Not the best picture but you get the idea.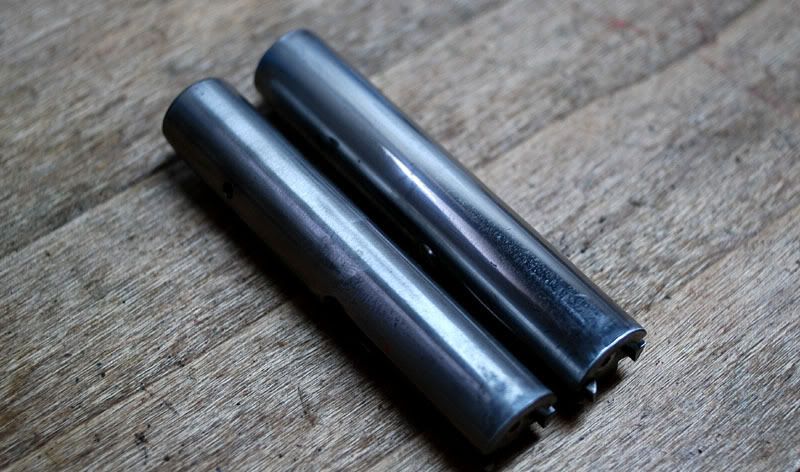 And finally I wanted to show my PaulF issued maintentance kit. Items include:
1 roll paper towels
1 medium sized flat screwdriver
1 thumb tack for removing the action bar and action spring
1 can of Rem oil
1 can of brake cleaner
This is standard issue when I go to the range. I know a lot of you will cringe at the brake cleaner. Sorry, but that is what I like, and I know it works. When I can audibly notice the ROF decreasing I know it is time to field strip the weapon. Once field stripped I hose out the entire receiver with brake cleaner. I give everything a few minutes to dry then the
only
things I oil are the bolt and the rails on the action bar. And these things I do very sparingly! The bolt gets a mist coat that I spread around with my fingers. The action bar gets the leftovers from my fingers, just enough to make the rails gleam a bit. This is in stark contrast to my M16 which is literally dripping with oil when she runs. But for whatever reason the Reising, at least
my
Reising, likes to be run dry.
Well here we are, finally! My "short" post turned out to be a novel. I hope you all enjoyed it, and more importantly I hope it helps some folks out!