I am posting this content for jimc351...this is his post, although my name appears on it. - David Albert
Here are some pictures of my Model 1914, .303, Lewis Light Machine Gun as
manufactured by Birmingham Small Arms in early 1918.
If most people are like me, when they see a picture of a Lewis Gun, two things catch their eye.
1. The stove pipe covering the barrel assembly, which give the impression of a water cooled MG. Incorrect,--its air cooled.
2. The flat pan magazine that rotates as the gun is fired.
The following pictures will show some of the less noticed details of the gun.
The second 2 pictures show the receiver/stock group complete. Right and left side. You will see the cocking handle on the left side view. It is reversible and can also be installed on the right side.
This next set of 2 pictures show a close up of the right and left side of the receiver. You will note the beautiful job of machining the contours. I can't think of another light machine gun with such elegant lines. While the 303 rd is 2 ½ times longer than the 45 acp, the Lewis receiver is 2 inches shorter than the Thompson. At 11 3/8 inches the Lewis is more compact than most of its competitors which had large rectangular boxes, riveted together.
This picture shows the top of the receiver. It shows the mechanism that removes the rounds from the pan magazine, and feeds them into the chamber.
This is a picture of the receiver cover and rear sight, showing the model year and manufacturer.
This shows the rear end of the receiver showing the holes for the bolt and Op Rod.
This picture shows the bolt and Op Rod prtially withdrawn from the receiver.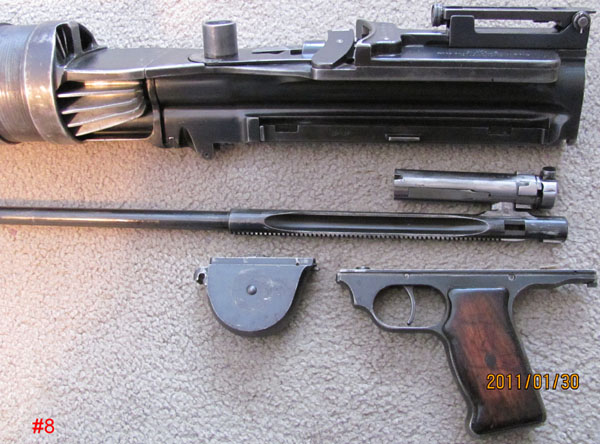 This picture shows the receiver, bolt/Op Rod, trigger group, and clock spring.
The clock spring was a part that failed most frequently. That being said, there were 2 good reasons for using it. First; Col. Lewis feared that putting the spring under the barrel, as in the US M1 rifle, might result in over heating and loss of temper. Second; By not having the recoil spring in the stock, a spade grip could replace the buttstock. The spade grip was required for many applications, such as armored cars, aircraft, tanks, and anti-aircraft mounts.
I am told that the bolt/op rod design is used in the US M60 MG.
While the Lewis didn't have a quick change barrel as in newer guns, it had an
aluminum radiator covering the full lenght of the barrel. Air flowed freely thru the radiator. The aluminum radiator also acts as a giant heat sink that reduces overheating. Unfortunately, it also made the gun 10 lbs heavier.
Jim