I have an original manual for sale for the M1911 Pistol.  This is U.S. Government Printing Office item No. 1866, titled "Description of the Automatic Pistol, Caliber .45, Model of 1911," dated 1917.  The manual was originally printed  April 1, 1912, then revised on February 14, 1914, and this is a 1917 printing.  These manuals were individually serial numbered, and this is serial number 21963.  It is serial numbered on the front page, and also inside, where it indicates "the Commanding Officer or the Post or Coast Defense Ordnance Officer to whom this copy is issued will be held personally responsible for its safe-keeping.  When another officer relieves him a receipt for it by number will be taken, which should be mailed to the CHIEF OF ORDNANCE, U.S. Army, Washington D.C.  It has six plates (pictures or drawings) in it, and shows the disassembled and assembled pistol, and details how to maintain and operate it.  This 100 year old manual is on good (minus) condition, with a tear that can be seen on the bottom of the front cover, and some chips and dog-eared pages.  It has some minor cover splitting at the top and bottom of the spine, and general wear from use.  For a 100 year old manual, the condition is above average, as many of these, when found, are in poor condition.
If you have an early M1911, particularly one from the WWI period, and you don't have this manual, you should consider it.  Its one of only a few accessories for the pistol, and since it's serial numbered, it makes it even more desirable.  If you have any questions, just let me know.
----SOLD----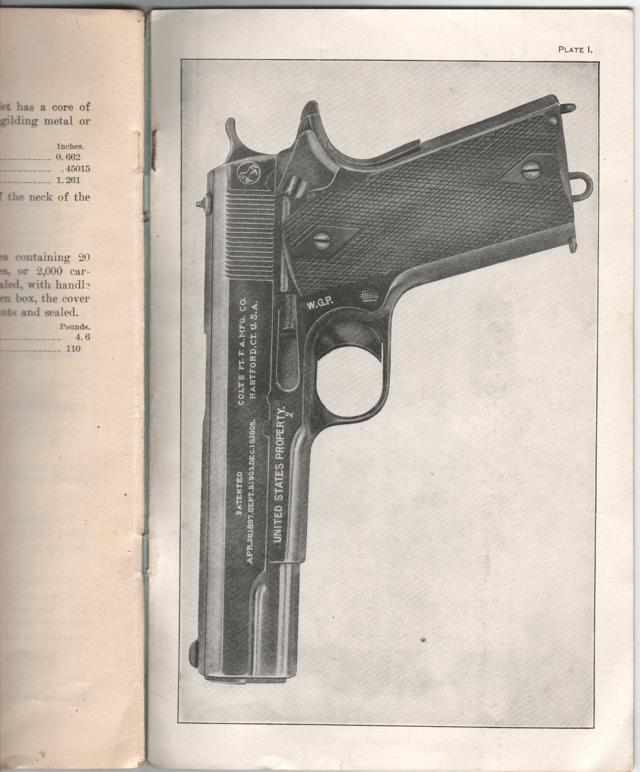 Price is $100, plus $3.00 first class mail shipping.  If you are an Ohio resident, I must collect sales tax for your local area.  I accept PayPal, or checks or money orders.
Thanks!
David Albert
dalbert@sturmgewehr.com