Found a Colt 1921 on display today. In a sheriffs office. I am entertaining the idea of making an offer. I have no idea if it is transferrable, if it can be had by me, or anything. They let me inspect it.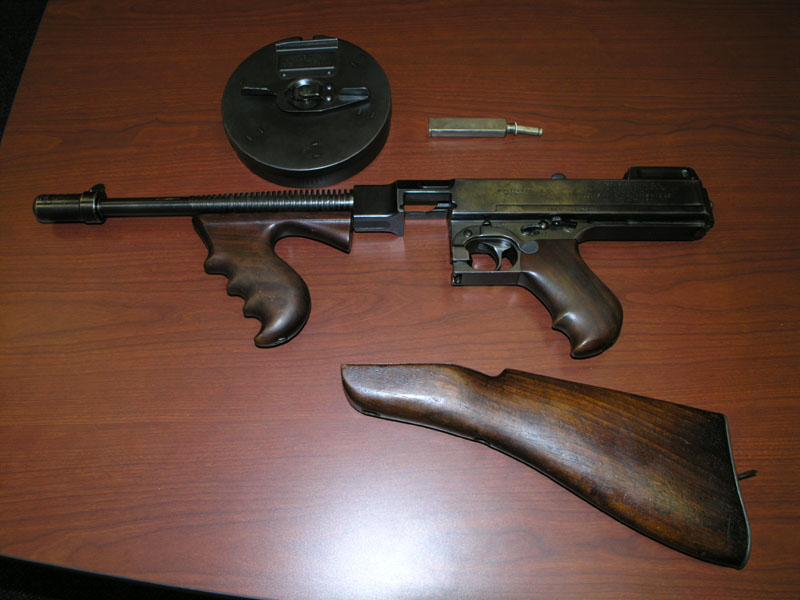 The deputy that let me handle it said it had been owned/confiscated from George Moran, as he owned property nearby. Sure....
Anyway, lets see if I can describe it. Arthur, you'll have to help me. Seemed to be in pretty good overall shape, though the buttstock relase button was gone and replaced with a screw. Nickel oiler. Matching serial numbers. 6XXX. Bbl fins are squared off. Cutts, well, I dunno what would be expected. Did have the bullet logo on one side, Diamond top. Savage nickel bolt and Blish (what does that mean?), one piece actuator. I don't recall seeing any marks on the gun, like proof marks, save for an alignment mark near the bbl and JHB. Knurling all way around; hole in the safety but not in the mag release. Flat ejector.
Is there anything about this gun that might be gleaned from the serial number? They asked I not post the serial, and I would hate to get scooped by any of you guys;-).
What are my odds for purchasing such a weapon? I'd like to have my ducks in a row before I even make an offer. They'd probably laugh at me anyway, but it is just sitting there gathering dust.
How does one find out whether it is transferrable?
Value?
Condition?
Am I crazy?
Gotta go cut grass. Will check back later!