I'm stumped on this one. I recently took a chance and bought a British web case that was advertised as possibly being for a Thompson. I think I can rule the Thompson out of the equation at this point, but I cannot seem to identify what this case belongs to.

It appears to be stamped as follows:
P.B. ( R ) Ltd.
BE19445 (or BE/9445)
1953 (with a British broad arrow pointng towards it, that, I believe, indicates it left service)
It also has another arrow that looks like an anchor with what appears to be an "n" on the left side of the downward pointing arrow, and a "4" on the right hand side.
It fits a Sten MkII very nicely, except for the buttstock. It would probably fit a Sten with a wire pistol grip with a couple of inches to spare. I do not see it referenced in the Collector Grade Publications book on the Sten SMG.
It has a web slot on the inside that fits a Thompson cleaning rod perfectly.
I cannot find a way for a Thompson to fit, and if it did, it would have to be with the buttstock removed. Three Thompson 30-rd. magazines fit in the large outside pouch very nicely. Sten magazines are about an inch and a half too long.
Here is a picture showing my WH M1 and my Sten MkII next to the case for size comparison.
An M-1 Carbine fits inside, but is too long.
I don't really think it would be for a Sterling, as I believe they entered service about 1955, but it could possibly be for that weapon.
It might fit an M3 Greasegun. I don't have one, but a friend of mine does,. I'll have to try it. I don't believe the British ever used M3's.
It could be that the case is not intended for a weapon at all, but I'm not sure what else it could be for.
Here is a closer shot of what the upper pouches look like opened.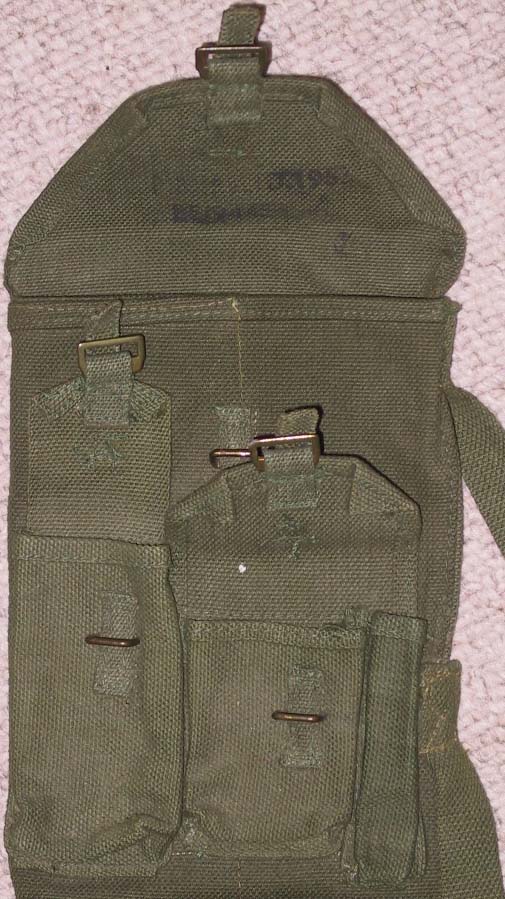 It could be that it was used by a British Commonwealth country, such as Australia, which could introduce the possibility of it being for an Owen or an Austen. I think an Owen would be too long.
Any help identifying this web case would be appreciated.
Thanks!
David Albert
dalbert@sturmgewehr.com