I'm looking for some help from the members of this board in documenting all the West Hurley Auto-Ordnance Thompson catalogs that were ever produced.
Some projects I'm currently working on will potentially include the WH catalog information. You might have seen my article on Reising manuals in the July issue of SAR, and I am working on another similar article, and 2 other written projects at the moment.
I have 3 different WH catalogs in my personal collection, and I have pictures of 2 others. I know I have seen others, and I'm looking to either purchase them, or obtain high quality, 300dpi images of them from somebody on the board.
I'm hoping that this thread proves to be interesting, and informative to others and myself.
Here are pictures of the WH catalogs I have:
1975 catalog:
Catalog No. 4 (Sometime around 1983??)
1987 catalog:
Here are pictures of catalogs I do not have:
1981 catalog:
1983 catalog: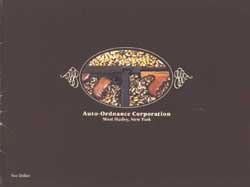 If you have information regarding other catalogs, or more information about these, please add to the thread, or send me an e-mail. Again, I am interested in purchasing WH catalogs that I do not already have.
Thanks!
David Albert
dalbert@sturmgewehr.com