In my seemingly endless quest for self-video glorification, I have uploaded another few seconds of me and my Tommy. This time, you guessed it, it's another fifty rounds blazing from the muzzle of my Westy 1928--with a 21 actuator.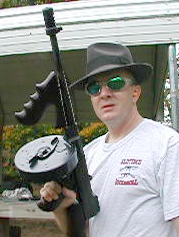 Old Time Rock and Rollin' with the Thompson
The video is about 5 megabytes, and does require the www.quicktime.com plug in.
Today I finally managed some free time. That, coupled with a few hundred rounds, led to some fun. My main purpose was to test fire Michael's (aka Norm) C drum. More about that later. Anyway, for those who love to see the Thompson in action, here ya go.