Everyone,
I'm down to the last 16 copies of the original limited edition of 100 numbered copies of the book that SIG and I put together titled, "Thompson Manuals, Catalogs, and Other Paper Items." This is a 50-page, full-color book of the lecture presentation we did in August at the 2005 TCA Show & Shoot in Ohio. Response to the book has been excellent, and I wanted to post the remaining copies I have for sale one more time on this board. The book was mentioned in the latest edition of the Thompson Collector's News.
Here are some preview pictures of several pages of the 50-page presentation.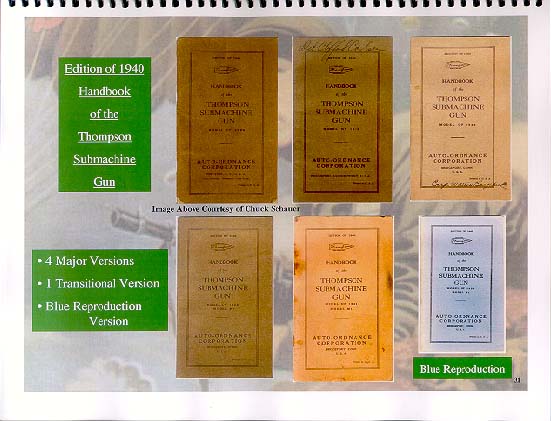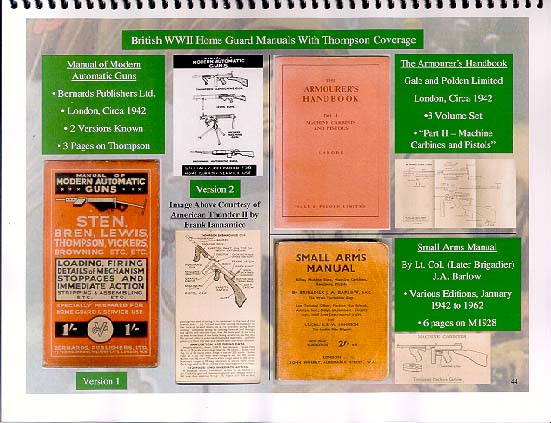 This work is the most complete documentation of Thompson paper items published to date , with 107 different items pictured, along with detailed analysis of many items. It is a great collector's guide.
Two pages are devoted to a 3-part matrix documenting the many differences between the first six Auto-Ordnance handbooks. (3 versions of the Model of 1921 Handbook, and 3 versions of the Model of 1928/21/27 Handbook)
The books are similar to the Thompson books that Doug Richardson has printed, in that they have a clear front cover, a black leather-textured vinyl back cover, and a coil binding. The biggest difference is that this book is printed in color throughout. The price for the book is $30, plus $3.13 first class shipping. Texas residents must add 8.25% sales tax. I'm not making much money on these, as I wanted them to be available in color to present the highest quality reference piece I could afford to market, which is an expensive venture on a small scale. Payment can be made by PayPal, personal check, or money order. Please contact me at the e-mail address listed below if you are interested.
I also have several of the color Model 1919 Posters that I had printed still available for sale. A description follows below:
There was some discussion a while back about the colorized Model 1919 blueprint that I purchased on Ebay. It is a very interesting paper item that probably dates from the war era or earlier, and was hand colorized with brown, grey, black, and yellow ink. The print may have provenance to George Goll, but I am not fully certain of its exact heritage, except that it was probably hanging in a frame at the AO Bridgeport Plant. The original appears to be a faint positive image from a blueprint on photo paper that was traced in ink and colorized. It arrived in a very old oak frame that utilized framing methods and hanging hardware of yesteryear. It documents Model 1919 Thompson serial number "No." That particular weapon, which is featured In Tracie Hill's book, has a 1921 style actuator and a front sight, unlike other 1919's.
I have received this item, and had a number of color copies printed on card stock. They are slightly enlarged, and printed on 11" x17" paper with a small white border edge around the image. They came out very nice! I want to make these available to interested collectors at a reasonable price, so I am offering them for $12 shipped first class mail in a tube. I accept PayPal, money orders, and personal checks. Texas residents must add 8.25% sales tax.
Here is a scan of the original image:
Here is a picture of the 11" x 17" print I am offering for sale. (Please excuse the flash reflection.) The prints look really great, and the printing reduced some of the wrinkles that are obvious when viewing the original, since it was pressed on glass for the copies to be made.
Just e-mail me if you would like to purchase one of the prints, or the book.
Thanks!
David Albert
dalbert@sturmgewehr.com