I acquired a new Thompson book today, written by Jean Huon in 1995. It appears that the book has never been discussed on this board, so I thought I would mention it for those who might be interested. The book is written entirely in French.
An interesting fact about this book is that it was published in 1995, a year before Tracie's book came out. In my estimation, it is the 3rd substantive Thompson book to be published, after Bill Helmer's 1969 classic, and Roger Cox's work in 1982. It's 135 pages long, and is a large paperback. My copy is a second edition, printed in 2002.
The first edition looked like this:
The second edition looks like this: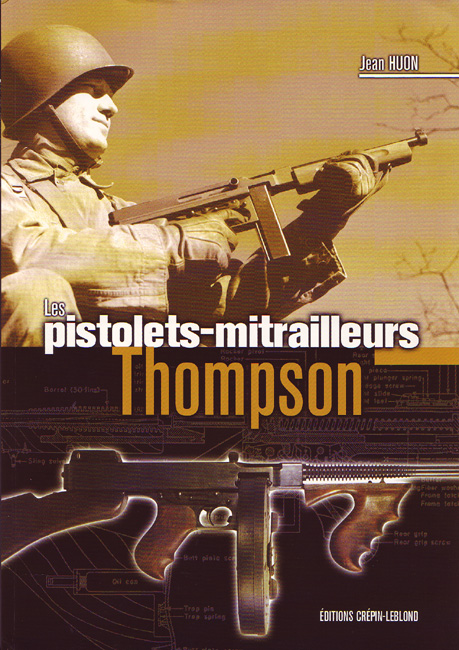 Let me start by saying that I don't speak French. Most folks probably won't want this book because it is written in French. I will say that my knowledge of Spanish helps, as it has many similarities to French, and I've been using an online French dictionary to understand some of the words I can't figure out. Anyway, I believe this is a book that deserves the attention of some on this board.
You may have heard of Jean Huon, the author, as he wrote the Collector Grade Publication on French Autoloading Rifles titled, "Proud Promise." He has also written many other French language firearm books.
The book has many military pictures of the Thompson that I have not seen published elsewhere. It could be worth the price for those pictures alone. The price, by the way, was 25 Euros, plus about 16 Euros shipping. The bottom line was my credit card was charged about $50 with the currency conversion. It took 2 weeks to get here. I ordered it from Crepin-LeBlond Editions in France. Their website URL is as follows:
www.graphycom.com
Some items of interest I found in the book:
- French M1 Thompson Wall Poster picture
- West Hurley chapter
- Information on French interest in 9mm BSA Thompsons (This is also covered in Tracie's book)
It has one very unique picture, credited to Jean Huon, that I have not seen anywhere else in my recollection. It shows a 1923 Military Model Thompson with a bipod, and a cutout for the bipod legs on each side. What appears to be a similar weapon is included in a vintage demonstration picture on page 77 of Tracie's book, but some of the features are obscured by the hands of the demonstrator. This could be the weapon referred to in Gordon Herigstad's book as a "Model 1922 Thompson Submachine Rifle (Thompson Military Model),"serial number 3075. A similar Thompson, without the bipod, is pictured from the West Point Museum collection. It has 2 bipod leg cutouts on each side.
Another interesting feature is some coverage of "copy" Thompsons, including a Chinese copy, and 2 Southeast Asian copies. We have probably all seen pictures of the Chinese model, and the Viet Cong M1 copy from the West Point Museum, but a picture of another, really rough, Thompson copy gun is included in the Huon book.
Many of the pictures are credited to the personal collection of the author. Many of the guns are credited to the author also, as well as to the West Point Museum, and the William Douglas Military Museum. Tracie Hill is mentioned as a credit for his first book with James Bannan. There are a couple of pictures supplied by Thomas Nelson. Bill Helmer and Roger Cox are also credited for information used from their books, and Ira Trast is also credited.
I just thought some might like to know about this book.
David Albert
dalbert@sturmgewehr.com