I recently purchased NFA transferable Reising Model 50 Submachine Gun serial number 10642, manufactured by H&R in 1942. It arrived at my door yesterday. It is a blued "Commercial" style Reising with a 29 fin barrel, older style rear sight, front sight with adjustment screw, non-thumbscrew takedown bolt, and side-mounted sling swivels. I bought it with a Federal Laboratories case, 5-20 round magazines, and 2-12 round magazines. It also came with an M-1 Carbine sling, a 1951 manual, and a couple of empty .45 boxes to fit in the slots for them in the case.

I also acquired from another source, a cleaning rod, and one of the rare soft cases shown on page 166 of Frank's Reising book. I forgot to include the 2-30 round Christie magazines that I bought for the gun in the pictures I took.
I've been collecting Reising paper items for several years, so I took some pictures of the gun with them. I wrote my first Small Arms Review article on Reising manuals, and it appeared in the July 2005 issue. You will see one picture of #10642 taken with some of my manuals, as well as another picture with several Reising advertisements.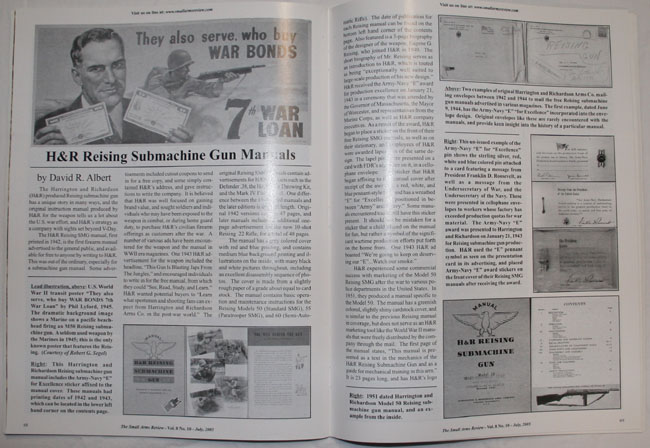 There are 4 manuals in the following picture that have not been previously documented. From left to right, the manuals and sales flyers are as follows:
1: Early sales flyer - Has "2/1941" handwritten on it - This is the only one I have ever seen. (4 pages)
2 and 3: I have two of these early manuals - I have not seen any others - they show a forward pistol grip incorporated into the stock. One of them has a bunch of features crossed out in red to indicate features that were not produced. Some of these items are a flash hider, forward grip, a different sling, and different sling swivels. (16 pages)
3. 1941 Reising manual - This one is in Frank's book on the Reising. It still shows the flash hider, forward grip, different sling, and different sling swivels. (24 pages)
4. 1942 Reising manual w/ Army/Navy "E" Award sticker - This is the 47 page version.
5. 1943 Reising manual - This is the 48 page version, with the additional page advertising the Model 65 .22 caliber Reising.
6. 1951 Reising Model 50 manual (23 pages)
7. 1942 Reising manual in original H&R envelope
8. Original USMC Manual for the Reising Submachine Gun, Caliber .45, Models 50, 55 and 60, 1942 (25 pages)
9. H&R Reising sales flyer/manual, circa 1951 - This is a very interesting promotional item published by H&R, and it features a testimonial to the Reising's service and features by Brigadier General George O. Van Orden of Evaluators Ltd., in Quantico, VA. (10 pages cover to cover)
10. Canadian Army Service Information Bulletin for the Reising Machine Carbine (.45 Inch) (1 sheet, 2 pages)
The case and the gun are in really nice shape. The stock is varnished, and I don't think that was an original feature, but I will check this. If it wasn't, I'll probably strip the finish and linseed oil the stock.
More pictures are provided below:


The transfer was received by ATF on 10/30, and was approved on 11/28. Pretty good for a major holiday during the transfer time. It's been many years since I purchased a new MG, so the improvement in transfer times is much appreciated. (I bought most of my MG's in the late 80's, when it usually took 3 months for a transfer)
Your thoughts on this Reising, and the paper and accessories collection are welcomed.
As an aside, I saw Reising Model 50, serial number 137 last week at the SAR Show in Phoenix. Very nice shape, and a very early gun. It was the best Reising at the show, in my opinion, and was priced at $4500. I saw it at Kent Lomont's table, and am not certain it's still available, but it would be worth an inquiry, if anyone is in the market.
David Albert
dalbert@sturmgewehr.com