This has come up before, and I just did another batch of these and
figured I'd pass along. The aftermarket barrels are notorious - and always
have been - for oversize threads and diameter making it difficult, sometimes
impossible to even get started on a receiver. If you return them, the
barrel you get back could be as bad or worse than the one you sent.
(NOTE: The barrels I am refering to are the barrels sold by the big
parts houses. Doug Richardson and PK make excellent barrels with
the correct threading and are a perfect fit.)
The aftermarket barrels can be fixed and fitted without too much trouble.
The first thing is to remachine/reform the thread which takes only a few minutes
in a lathe. When this is done you can see by the way the tool cuts that
the form of the thread is not a true square (which it should be) due to
inaccurate machining, improperly formed cuttting tool, or both. After
recutting the thread you can file the outside (major) diameter of the thread
on a trial-and-error basis until you get a good fit.
Pictured below is an aftermarket barrel which would not screw on
to a recever at all. The first photo shows the new barrel chucked up ready
to remachine the thread. The second photo shows the result of recutting the
thread with the correct tool (0.05" wide) and you can see how the thread
has been corrected by the machining away of the bluing.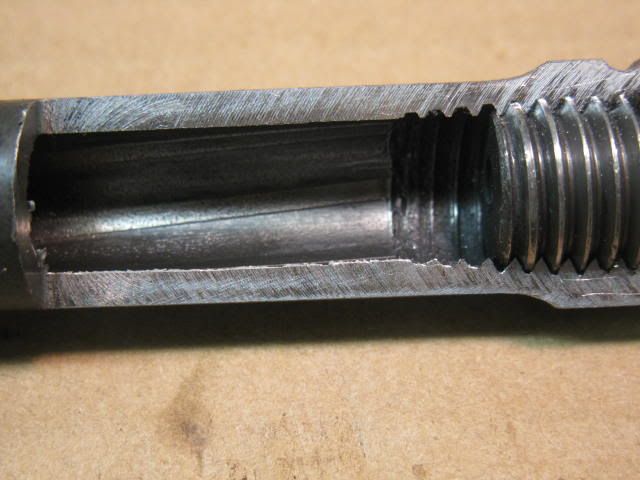 After remachining the thread the barrel screwed almost all the way on, but
got stuck. By light filing of the thread major I was able to get the barrel to
esily screw all the way on for a perfect fit. I have done this so many times now
I consider this to be a reliable "standard routine".
Also, for reference purposes, here is a photo of the chamber end of an
aftermarket barrel on the left, and an original barrel on the right. Note that
the aftermarket barrel (left) has a short chamfered (angled) breaking of the mouth
of the chamber. The original barrel (right) has a deeper fileted (rounded) mouth
which is much more reliable for feeding. There is no reason the new barrels
can't be chambered this way, but for whatever reason the makers choose not
to do so.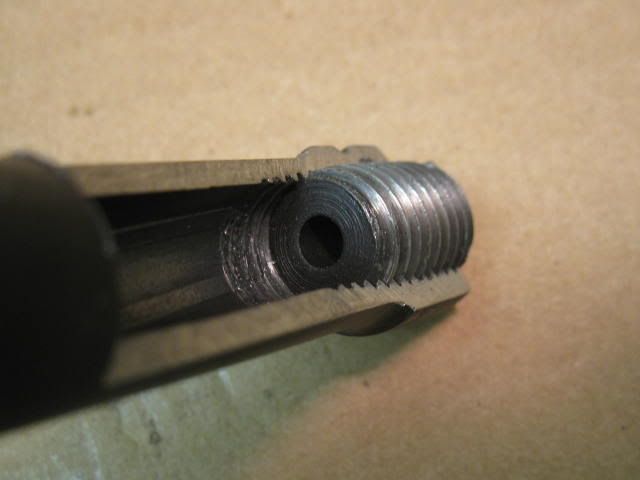 Bob
Edited by reconbob, 31 December 2008 - 08:55 PM.